Husbandry and Care
We have learned that basic care sheets are not comprehensive enough for many of the more unusual species we work with, and thus we have decided to put together some of the key informational points we've learned on each species we breed and care for. This will be a constant work in progress, as we are constantly learning new things and techniques about these amazing creatures.
At the end of the page we've included a small photo gallery as well, whether it's with a DSLR or the camera phone in our pocket, we can't resist trying to capture some of the incredible moments we share with our reptiles. Sometimes you just have to be there, but I hope we are able to bring you a piece of what we are so fortunate to experience daily.

---
Satanic Leaf Tailed Gecko (Uroplatus Phantasticus)

Description:
The Satanic Leaf-Tailed gecko is one of the most desirable and fantastic geckos in captivity today. They are about 3-4 inches long with large wide tails that resemble a dried dying leaf, with thin legs and arms, scales that form a horned look above their eyes, and males have abstract patterns across their body that mimic the texture of a leaf as well. Females tend to be more smooth tones and even colored usually with a full tail (no notches) and no tail base spurs, they also lack the male's signature tear droplet.

In Captivity:
There is a common misconception that all geckos make good & easy pets, when in fact these are a hard exception to that rule. They do not tolerate handling well and are often stressed out by near by activity. When deciding if a Satanic Leaf Tailed gecko is right for you, first consider your surroundings and year-round environment and experience. Not only are they prone to overheating, but dehydration can also cause severe issues extremely quickly.
Due to their size, delicate nature, and lack of heat tolerance, they are recommended for experienced gecko keepers, with a temperature controlled cold room with an educated caretaker be available at all times. Many Satanic keepers would not dare go on vacation for fear of their geckos perishing from someone's mistake.

Temperature :
Unlike most geckos, Satanics leaf Tailed Geckos do best at colder temperatures, usually ranging from 65-72 degrees, with breeding activity recorded as low as mid 40s. These geckos are EXTREMELY sensitive to heat, and they will overheat or die if left about about 80-85 degrees for more than a few hours. Because many reptiles keepers do not have a suitable cold room, this species has had a difficult time thriving in captivity.

In the Wild:
In the wild geckos live in Madagascar within about 2-3 meters of the ground in low shrubs and bushes in temperatures ranging from 45-75 degrees .

Humidity/Hydration:
Humidity should range daily from 50-90 percent but geckos should not get directly misted or sprayed. These geckos need water droplets to drink but also a cage with circulation and the ability to dry out.
We keep ours on a combination diet of crickets and dubia roaches fed daily on Ecoearth with white dwarf isopds and spring tails as cage cleaners with live plants.. Having bioactive substrate means we don't have to disturb them with cage cleaning as often and they have a constant source of different foods

Supplements:
These geckos require a delicate balance of Calcium, D3 and multi-vitamin. Females laying eggs should have some kind of calcium available at all times, have daily calcium dusted insects as well as D3 dusted insects twice weekly. Males should also be provided calcium, but generally do not need as much. Multi vitamin (we use Herptivite) should be used less often, but still regularly (generally about once a week or once every two weeks), based on your insect gut load regiment. Less gut loading means more multivitamins needed, but these geckos are sensitive to over-supplementation as well as vitamin deficiencies, so it;s important not to overdo it. Because Phantasticus prefer colder temperatures than most of the other Uroplatus their metabolism is thought to be much slower than most geckos, and thus giving them an increased susceptibility to edema from an excess of nutrients. Careful monitoring of chalk sacs is essential for this species to thrive in captivity.

Lighting:
Heat lamps are not needed or recommended for this species. Some keepers have used a low wattage puck light to give the geckos a small basking spot IF their temp range is on the low side. If possible UVB (2.0-5.0) should be provided in 12 hour cycles, though it is not something that ever keeper uses nor has been proven necessary for their survival.

Availability:
Captive bred Phantasticus are fairly hard to come by, but not impossible to find, while wild caught specimens are still imported in fairly large numbers at this point. Market price in the United States ranges from $350-450 each for captive bred geckos, with wild caught being slightly less expensive.
Due to their low numbers in the wild, and sensitivities in captivity many Phantasticus breeders will not sell a gecko to someone would has not had experience with other Leaf Tailed Geckos. The Uroplatus Henkeli is known as one of the best starting Leaf Tailed gecko to work with due to being much more forgiving of mistakes and changes as well as a much larger temperature gradient.

Choosing a Gecko:
When choosing a specific gecko to acquire there are several things to consider and look at first. Captive Bred versus Wild Caught is the biggest choice to start with. Captive bred animals obviously have far less health issues from the beginning and are better acclimated than fresh imports. Many Phantasticus do not survive the trip from Madagascar or arrive in very poor shape, severely dehydrated and infested with parasites and mites. Not only can they experience many health issues before becoming stable, but I personally believe the extra strain on their liver and kidneys ends up shortening their lifespan. Not only that, but wild numbers are rapidly decreasing due to deforestation in their native habitat. Because of these speculations and observations I do not recommend purchasing a wild caught animal as your first of this specie, unless you have no other options I don't recommend purchasing wild caught Phantasticus at all (unless for the purpose of expanding available bloodlines). I always recommend checking the physical condition ( at least get photos) of the gecko before purchasing. Many health issues can be easily spotted if you know what to look for or be careful of. First, observe the gecko and it's movement, make sure there is no stuck shed constricting any limbs or toes. Next check the tail, it should be full and flat, with no curling around the edges as that is clear sign of dehydration. Then check the eyes, are the wide open and bright, sunken eyes are sign of dehydration. Lastly, if you're getting an adult check the chalk sacs around their neck, if they look very large or hard that can be a sign of edema or infection, too deflated and the gecko could be on the way to a calcium crash. A healthy gecko should have noticeable bulges around their neck but they should not be hard. They should be alert but generally don't be surprised by a low level of activity.



---
Brazilian Rainbow Boa (Epicrates Cenchria)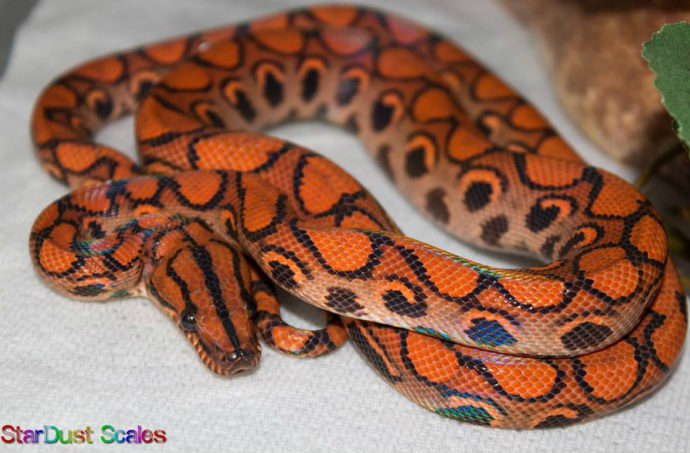 Description:

Commonly known as one of the most beautiful reptiles in the world. Where do we start with these gorgeous snakes....
They range from bright red to dark brown, with morphs that range from Hypomelanistic, Anerythristic, Calico, to Albino and Xanthic. They get about 6-7 feet long but are fairly slender snakes, being semi-arboreal. They have an extremely strong feeding response but are known for being fairly calm snakes if handled regularly. They are constrictors and are extremely powerful snakes for their size and can have a very tight grip when being handled.

In Captivity:
These are nocturnal snakes that are known for being most active very late at night usually coming out to hunt at about 1am. As adults these snakes require a minimum of 4ft x 2ft of space, with a wet hide and a slightly warmer area to help digest meals. They are notoriously bitty as babies but truthfully they can hardly break skin with their tiny teeth and after about the first couple months should be much more calm and able to be handled. Out of over 30 Rainbow Boas, I've personally been bit by one once. Most bites occur when trying to pull the snake out of it's home or when feeding, so I recommend using an appropriate sized hook when removing the snake to avoid getting tagged, and avoid handling at all around feeding time.

In the Wild:
The snakes are ambush predators, often laying in wait for days before something crosses their path. They live in various parts of South America and closely related to the Anaconda, though are significantly smaller and thinner bodied. They may be found climbing or swimming looking for prey. Even wild Brazilian Rainbow Boas can have gorgeous reds and oranges, and of course always display their signature rainbow iridescence.

Temperature :
These snakes prefer a ambient temperature of 80-82 degrees with a warm spot of 82-84. Generally this is achieved with a heat pad or heating cable under the cage or vivarium. Due to their unusually high humidity requirements a heating lamp is often not ideal source and will dry out the air in the cage. Radiant heat panels are also a great option for this species as they create a safe and accurate temperature gradient.

Humidity/Hydration:
The most daunting thing about keeping these snakes is the humidity requirement. Babies and neonates require 90-100% humidity to have complete sheds and not develop respiratory issues. Adults typically can handle lower percentage but I would still recommend keeping it around 80-90%. A large water bowl for soaking should be provided and will help generate more humidity. Substrate should help keep the environment humid but should not be wet, cypress mulch or coconut fiber are great options that hold humidity and avoiding mold. These snakes are not prone to scale rot, but it is always a possibility if kept in a dirty environment especially with the high humidity, it's important to remove feces to avoid bacteria development.

Lighting:
They do not require any specific lighting or UVB, but some keepers find that light cycles are helpful when breeding or when going into brumation.

Availability:
There are several breeders of Brazilian Rainbow Boas in the United States that provide gorgeous healthy snakes. Although sometimes large chain stores will carry these snakes, they should usually be avoided, due to their specific requirements they are often not cared for properly. Respiratory infections and shuck shed are the most common problems with these snakes not being kept humid enough, and unfortunately these are very common with breeders or keepers who do not specialize in these snakes.

Choosing a Snake:
Any snake you choose should be alert, have a bright rainbow shine, be free of stuck shed or eye caps and be feeding well on Frozen/thawed mice/rats. Brazilian Rainbow Boas are ferocious eaters and should have no problem taking frozen thawed prey, if they refuse f/t it can often be a sign of underlying issues or a picky eater that may not grow at a normal rate.

---
False Water Cobra (Hydrodynastes Gigas)

Description:
The False Water Cobra, also commonly known as the Brazilian Smooth Snake, are a heavy bodied rear-fanged venomous colubrid, capable of getting upwards of 8-11 feet long. They are usually gold, brown, tan and black with some hypomelanistic variations looking more silver or yellow. They have elongated ribs abound their neck that create a hood when flattened or threatened and posses a high toxicity venom known to cause edema, swelling, pain, tenderness, and even necrosis in rare reports. The delivery method used for envenomation is considered crude, being "rear-fanged" means the fangs in the rear 1/4 of of the mouth must be engaged for venom to seep into the bite wound as well a moment of chewing with these fangs. The venom is said to have roughly the same components as Timber Rattlesnake venom without as high of a yield or as effective delivery method. They have roughly 400 recurved teeth, making bites extremely painful even without envenomation, often causing large lacerations.

In Captivity:
These are extremely alert and active snakes, requiring a large cage and lots of stimuli and area to explore. They have very developed eye sight and will watch people and activity around them, but they can be shy at times so a secluded wet hide should always be available to avoid stress. Babies will sometimes only accept fish for their first few meals, but can be easily switched to scented pinky of fuzzy mice and eventually switched to unscented. Adults are almost always ferocious eaters and will take a variety of food from baby chicks and frogs to rodents. Cypress Mulch is an excellent bedding option for them as it retains humidity without molding or absorbing too much water; these snakes are prone to scales rot so wet or saturated substrate should be avoided and feces should always be removed promptly. Also, they snakes are very sensitive to pesticide and products like Provent-a-Mite should not be used on them.

Temperament
These are incredibly inquisitive snakes, who's temperament can range from ferocious to totally docile in adults. Captive bred specimens are general much more clam.

In the Wild:
These snakes live in various parts of Peru, Bolivia, Brazil, Northern Argentina, and Paraguay as well as other scattered parts of South America. When threatened they have a variety of defensive mechanisms, most often they will flex the muscles on their neck to create a large hood, and in rare occasions will feign death, also known as thanatosis. In the wild they eat anything from fish, frogs, toads, and aquatic snakes to rodents.

Temperature :
These snakes are very sensitive to overheating (using a quality thermostat is highly recommended), but they also need a consistent warm basking spot to maintain proper digestion for their fast metabolisms. Day ambient temperatures of about 80 are ideal with a basking spot of about 84-85. A night drop of a few degrees is fine, we keep our night time ambient around 78 but still have a warm basking spot of at least 82.

Humidity/Hydration:
These are not technically water snakes but they love to spend time soaking and relaxing in and around water. A large clean water dish should always be available for drinking and soaking. Humidity should always be between 60-80%.

Availability/Choosing a Snake:
Wild caught False Water Cobras are extremely uncommon in the reptile trade. They are often loaded with parasites, dehydrated, and do not acclimate well to captive food and conditions. Captive bred specimens are a much safer option and are often much easier to work with as well. These are still fairly uncommon snakes in the reptile trade due to their sensitivities and venom. Clutches are usually 8-26 eggs and take about 60 days to hatch (at about 83 degrees). Babies are about 14 inches long when born and will often only accept fish for their first couple meals, though they can be easily switched to scented pinky or fuzzy mice and eventually switched to unscented mice or rats. When choosing a baby, try to find one taking unscented These are considered advanced level snakes and are not recommended for inexperienced keepers
---
---